Organized by the Department of Languages and Cultures, Ghent University
Organizer: Biljana Zrnic
Members of the organizing committee: Imre Bangha, Richard Williams, Dhurjjati Sarma, Ishan Chakrabarti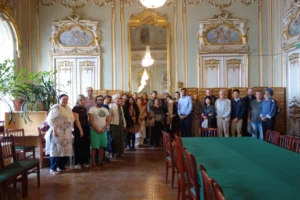 The Department of Languages and Cultures (Ghent University) is organizing the tenth Early Hindi / Braj Bhasha Workshop. The workshop will take place from 15-25 July 2023 on Brijuni (one of the National Parks of Croatia, located near the city of Pula). Leading experts from India, Europe, and America will present and examine with the global readership early modern Hindi texts composed between the 16th and 19th centuries and discuss challenges of interpretation, variations, and other aspects of the texts. Academics and students with a solid foundation in Brajbhasha or another form of early Hindi, and familiarity with essential grammatical terminology in English or Hindi, are welcome to join.

Accommodation:
Bed and breakfast rates for Rooms Karmen on Veliki Brijun:
Shared double room – 54 EUR
Single room – 75 EUR
If you plan to come with your family members:
Double room 2 + 1 (park view) – 107 EUR
Double room 2 + 1 (sea view) – 119 EUR
Optional dinner costs 22 EUR. Meals will be served in the hotel Neptun (situated just next to Rooms Karmen). There are other restaurants nearby.
Rooms Karmen do not have WiFi. For internet access, it is advisable to use the seminar room or buy an internet SIM card.
Arriving to Brijuni:
1. The nearest airport is Pula Airport, located only 13 km from Brijuni. Transfer from the Pula Airport to the hotel (and vice-versa) is free of charge.
2. Another option is to book a flight to Zagreb, then take another flight Zagreb-Pula or take a bus Zagreb-Pula at the central bus station in Zagreb (duration by bus Zagreb-Pula is ca 4 hours). Transfer from Pula central bus station to the hotel (and vice-versa) is free of charge.
3. If arriving from Italy, take a bus Trieste-Pula (duration 2 hours) or a ferry from Venice to Pula (duration ca 3 hours and 30 min).
The island can be reached by the national park boat (duration 15 minutes). For hotel guests, transfer from the island to the coast (and vice-versa) is free of charge for the whole stay.


PROGRAM
July 15, Saturday – ARRIVAL
18:00                          Welcome party
July 16, Sunday
9:30 – 11:00               Jaroslav Strnad: Kabīr 1st  
11:30 – 13:00             Biljana Zrnic: Sūrdās 1st
15:00 – 16:30             Monika Horstmann: Prithīnāth 1st (hybrid)
July 17, Monday
9:30 – 11:00               Jaroslav Strnad: Kabīr 2nd  
11:30 – 13:00             Biljana Zrnic: Sūrdās 2nd
15:00 – 16:30             Monika Horstmann: Rajab 2nd (hybrid)
17:00                          Excursion – Veliki Brijun Tour
July 18, Tuesday
9:30 – 11:00               Jaroslav Strnad: Kabīr 3rd   
11:30 – 13:00             Robin Rinehart: Guru Gobind Singh – Dasam Granth 1st  
15:00 – 16:30             Monika Horstmann: Rajab 3rd (hybrid)
July 19, Wednesday
 9:30 – 11:00               Heidi Pauwels: Rasik Bihārī and Nāgarīdās 1st
11:30 – 13:00             Robin Rinehart: Guru Gobind Singh – Dasam Granth 2nd  
15:00 – 16:30             Imre Bangha: Ālam-keli 1st (hybrid)
17:00                          Excursion – Pula
July 20, Thursday
 9:30 – 11:00               Heidi Pauwels: Rasik Bihārī and Nāgarīdās 2nd  
11:30 – 13:00             Imre Bangha: Ālam-keli 2nd      
15:00 -16:30               Dalpat Rajpurohit 1st (hybrid)
July 21, Friday
9:30 – 11:00               Heidi Pauwels: Jānā Begum – Risālah-i Mūsiqī 3rd  
11:30 – 13:00             Yogesh Pratāp Shekhar: Dev – Bhāv Vilās 1st   
15:00 – 16:30             Dalpat Rajpurohit 2nd (hybrid)
17:00                          Excursion by boat around Brijuni
July 22, Saturday
9:30 – 11:00               Swapnā Sharma: Gadādhar Bhaṭṭ Padāvalī 1st
11:30 – 13:00             Yogesh Pratāp Shekhar: Dev – Bhāv Vilās 2nd  
15:00 – 16:30             Devendra Sharma 1st (hybrid)
July 23, Sunday
9:30 – 11:00               Swapnā Sharma: Gadādhar Bhaṭṭ Padāvalī 2nd
11:30 – 13:00             Eva De Clercq: Svayambhudev – Paumacariu 1st
15:00 –16:30              Devendra Sharma 2nd (hybrid)
17:00                           Excursion – Rovinj
July 24, Monday
9:30 – 11:00               Eva De Clercq: Svayambhudev – Paumacariu 2nd
11:30 – 13:00             Tine Van Overberghe: Bulākīdās – Bhārat Bhāṣā 1st
15:00 – 16:30             Neha Tiwari: Somnāth – Sujān Vilās 1st (hybrid)
July 25, Tuesday
9:30 – 11:00               Closing session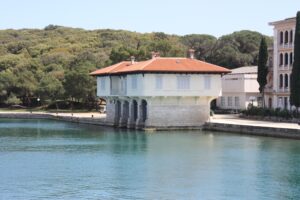 Croatia is a member of the Schengen area. The currency in Croatia is the euro.

A 10-40 EUR voluntary donation is suggested to help scholars from India attend the workshop.

Taking screenshots or recording the sessions is not allowed.

To register, send an email to biljana.zrnic@UGent.be